Aug. 11, 2018
Metal Roof Forming Machine-China Roll Forming Machine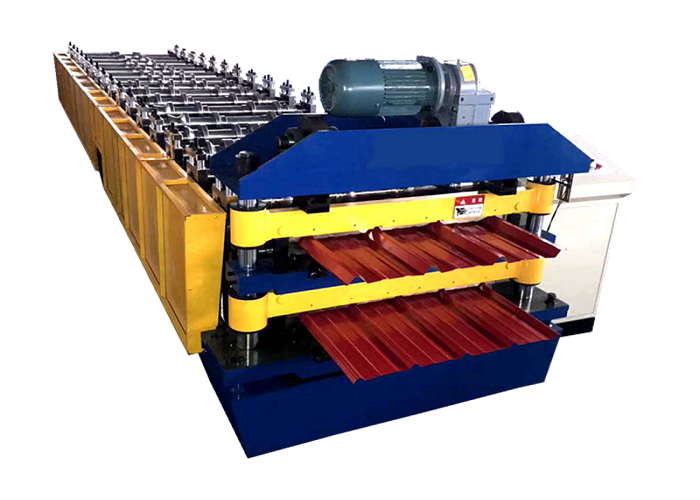 Roof Sheet Roll Forming Machine is designed to produce various kinds of roofing sheets, wall cladding as per design drawing with desired length.
Roof Roll Forming Machine Video
Where to use the roof panel roll forming machine?
People use Roofing Sheet Machine, Such as Roofing Sheet Roll Forming Machine, Trapezoidal Sheet Roll Forming Machine to produce metal sheet for industrial, commercial and residential roof cladding. Although there are numerous profiles of roofing sheet, the process of forming is the same. Coils (GI coils, PPGI coils, GL coils, PPGL coils, etc) go through decoiling, roll forming, cutting and then come out the desired roof products.
Machine Components
5Ton Decoiler: decoil the coils into flat sheet ,we have manual and hydraulic type.
Feeding And Guiding: guide the material in order to avoid its deviation.
Roll Forming Machine: form the sheet into desired profile
Press: for tile profile sheet to form the shape like tiles
Cutting: cut the formed profile into desired length
Product Table: support the product from falling down ,we also have auto stacker.
Electric Control System: supply electric power
Hydraulic System: supply hydraulic power
PLC Control System: we have Delta and Siemens
Advantages of Roofing Sheet Roll Forming Machine
1.Low cost ,light weight buy high strength , short building period ,and recycle use .
2.Save material , no wast
3.Easy operation , low maintenance cost
4.Infinite sizing (any size within machine range),help to save material